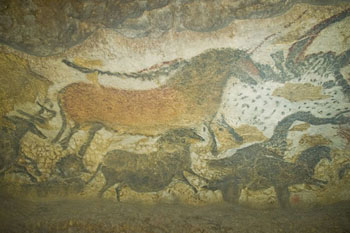 There are many questions begging to be answered. However, there is one question that is the basis for all others.
Anatomically modern humans appeared roughly 200,000 years ago. For 150,000 years there was little difference between what has been called archaic humans and modern ones.
Their tool kits were basically the same and there is little evidence that they behaved differently.
Then roughly 50,000 years ago in the relative blink of an eye all that changed.
Creativity for the sake of creativity burst onto the scene and totally engulfed what is generally acknowledged as a small population.
What happened?????
I dunno!
In fact nobody knows. It is one of the biggest mysteries of the human race and virtually nobody knows about it.
So, how do we know it happened and when?
The fossil record is spotty at best. The evidence of our species physical evolution has big holes in it. There is certainly enough to piece together a rough outline of our journey through time. And there can be no question of the basic principles but many of the details are lacking.
Fortunately, they did leave a lot of trash-Scientists call it all artifacts but it is trash none the less.
In this trash is a record of what they made and more importantly when they made it. I am not a scientist and cannot expound on the the methods used for dating artifacts. It is a fascinating study in itself but we are more interested in the results of these methods than how it is done.
What do we think we know?
Anatomically modern humans-people that look like you and I appeared about 200,000 years ago in eastern Africa. At the same time there existed a large population of what is called Archaic humans that had been around for millions of years. These early Hominids had spread to large parts of the world. Now, having said all that there is huge debates on even this little bit of information.
In short,for our purpose it does not matter. It is just all an interesting precursor. What is important is the fact that as far as we can tell, archaic humans and anatomically modern humans behaved basically the same. That is until
KABOOM! we didn't.
Something swept through the population. There was an explosion of creative activity. Cave paintings, Bead making, tremendous advances in weapon making, the list is nearly endless. And it continues to this day. We as a species have a need to create. Beyond the tangible rewards there is a deep and enduring satisfaction when we create something that was not there before. It is more than a simple survival mechanism. Though it has allowed us to survive when all others faded from the landscape. However it happened there was fundamental change that in short allows us to tap into and be consciously aware of the greater whole. We
Acquired a Soul.
And whether we realize it or not and for better or worse, we have been building it ever since. No, I am not going to lecture you about religion. To be honest, as valuable as it can be to the human race,there are many, many threads that are woven into the fabric of our existence and religion is but a small part of it. The path each of us takes is highly personal and whatever philosophy you ascribe to it is your own. That does not mean however, that we will not challenge you to think about what you believe and why. Looking at it from a perspective as creators gives it a particularly sharp focus.
From physics to fitness we examine the paths we take. If we want to build a great body, we learn about it, we give it quality fuel and we work it-HARD. Can we expect to do any less to build a bright and strong soul that will last?
Make no mistake my friends.
I am more-You are more-We are all-More!
Read more About SoulBuilders