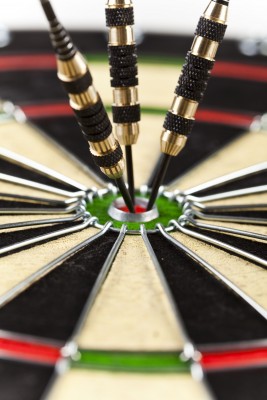 Thunk!
Dead center-Again!
Third one in a row.
Big Jim, the only real dart player in the room, raised an eyebrow at me. For him, that was fall-out-of-your-chair surprise.
I gave him a small smile and a slight nod. As if I knew myself what the hell was happening and had planned it all along.
You know-the old hustler trick of appearing to be the hapless pool player but when real money is on the line he runs the table and takes all your money?
Around me were Americans and Japanese in various stages of inebriation. No one else was paying the slightest attention.



Samuria Darts
It was spring 2004, downtown Nara.
As training manager for the United States, I had escorted 4 new employees to Japan for two weeks of intensive technical training. Big Jim being one of them. How we came to be in the middle of a darts tournament in a third floor British pub in the middle of the first imperial capital of Japan is a story in itself.
The short explanation is that it was the tail end of a dinner/party celebrating a successful two weeks of training. More would be a long and convoluted story.
I had started this series of tournaments a couple of hours earlier as I had expected. Most times at least hitting the board-but not always. Once the dart left my hand it was anybody's guess where it would land.
But now, in this game, I not only knew where it was going to land I was "telling" it where to land. The was an invisible but clearly tangible line between me and the center of the target. I was simply sliding those darts down that line. It was like the tone a fighter pilot gets when his targeting radar locks onto an enemy plane. For once in my life I relaxed into the experience and did not immediately go about analyzing it and losing it.
Maybe the two glasses of straight up Macallan scotch had contributed-maybe not.
I have had this type of experience before.
And so have you
I will wager that whatever happened you have explained it away as:
A) You imagined it-It didn't really happen.
B) It was an anomaly that will never happen again.
C) God briefly touched your unworthy self with his infinite power.
D) Fill in the blank_______
Right up at the top of this blog, right under the title is what is called the tag line.
Go ahead take a look-I'll wait.
What does it say?
What? Sorry I couldn't hear you.
I think you are mumbling.
Here, I will help you.
You are more
What? Me you say?
You must be mistaken.
I can barely cope with my life. Everything is on the verge of being out of control.
I hate my job, but I am looking at 8+ years of college tuition for my kids.
I have gained thirty pounds over the last 15 years.
I don't remember the last time husband/wife/girlfriend/boyfriend/stranger looked at me with lust. Let alone had any meaningful sex.
If it wasn't for my double shot espresso latte every morning I could not face the day.
Well my friend, in the inimitable style of that paragon of sensitivity and restraint-Real life Marine Staff Sergeant and actor R.Lee Ermey,

Wake up and smell the gunpowder you namby-pamby cry baby.
(I love the commercial where he plays a psychiatrist and ends up throwing a box of tissues at his weepy male patient.
Insensitive of me? Yes.
Do I think that all of us need help and support at different times in our lives. Yes.
Have I ever found myself being overly emotional (crying) while discussing a difficult time in my life. Yes.
I like it anyway.)
It just ain't fair!
We all live (whether we admit it or not) under the erroneous supposition that there should be some fairness to life.
Fairness is a human invention. And yes, it is an essential concept in how we should interact with each other.
But we have created a micro system within the larger ecosystem of life. There is no such equivalent in the natural world that we inhabit.
Is it fair that a herd of cape buffalo will trample to death any young lion cubs they can get to?
Is it fair that a mosquito will hunt you down and drink your blood.
Is it fair that should you decide to jump off of a forty story building you will end up a big stain on the street below?
You are right-in these situations fairness does not apply.
And it does not apply in the vast majority of our life.
So we are adrift in a sea of uncertainty and uncontrollable situations?
No!
Why?
Because?
We are More!
You, me, your children, the guy in the car next to you. We are all more.
I live under the assumption that everything I experience I have brought it into my life.
How?
We each create our life nanosecond by nanosecond. The decisions we make, the actions we take or don't take, even the thoughts we think and project onto the world with there own energy and power, shape our life moment by moment.
I can hear your objections and your outrage. What about the newborn afflicted with AIDS? Did he do that to himself?
What about the beautiful young mother that was killed by a drunk driver?
This is simply a way to live. If there truly are things we cannot influence then so be it. But, I would hazard a guess that the vast majority of what we experience is our own doing.
How to begin?
Move!!
Find a way to be active-workout, play a sport, walk. If at all possible do something. If you are truly, physically unable to move then indeed your way is more difficult. But I would challenge you to find some way to exercise no matter how limited.
This I would say is the single most important thing you can do to reshape you life. The confidence it instills is invaluable. Not to mention the countless beneficial chemicals it causes your body to produce and release.
Find something challenging AND/OR meaningful to do.
Research and write a historical novel.
Coach a youth sports team.
Learn to play an instrument.
Volunteer as a reading instructor.
Start a blog.
Add meaning to your life-Live your life for cryin' out loud.
Meditate
This may be the second most important thing you can do for yourself.
I will have to add that I am horrible at this. I cannot seem to sit and meditate. I compensate by using Iaido as a form of moving mediation and early morning guitar practice to change the wavelength of my brain. But make no mistake- real meditation for as little as 15 minutes a day is invaluable.
I notice a huge difference when I do it. This is one of my challenges.
As we talked about earlier, your thoughts have there own power. Meditation is a powerful tool in the process of shaping your thinking.
That's it?
Yep, That's it. Everything else will flow from these three activities.
Well, actually there are two other things you need to incorporate into your life.

Mindfulness
and
Surrender
At first glance these seem to be mutually exclusive terms.
Mindfulness is thinking about what you are doing and why.
Surrender is just that-Surrendering to an experience without thought or analysis.
There is a time and place for both. Had I stopped to analyze the mechanics of the dart game I would have lost it. Later was the time to think about the experience and analyze what may have brought it on and how to recreate it consciously.
Of the two, surrender is by far the most difficult.
So, practice your scales with diligence and thought. But when it comes time to play. Forget the notes on the page- you are the music.
And never forget
You are more!
As you start down this path you will discover and remember more of yourself.
If you are open and persistent, maybe, just maybe you will find yourself in an English pub in Japan throwing thirteen consecutive bulls eyes.
Ya' never know-It can happen.