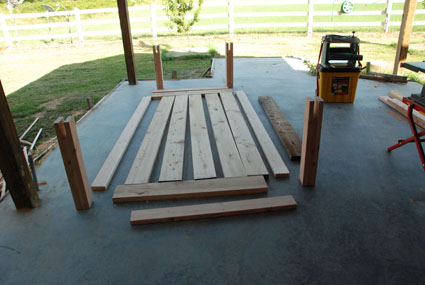 I Took a Break.
After six months of Joomla, WordPress, HTML, CSS, blog posts, Facebook, Twitter, web hosting, auto responders, online forums, etc. etc. I stopped-Cold turkey and made something real.
Brain Dead
There is a valid argument that words and media on a computer screen are real creations-You will get no argument from me. But in my own personal physiological make up, creating something that is not three dimensional can be less than satisfying.
Plus, sitting and staring at a screen with only my brain working is exhausting.
Motivation
The excuse to stop was my wife's birthday. She wanted to host a true Russian style party with a sit down meal for all our friends and family around a big table.
The only drawback was the big table part. Sure we could but some smaller tables together, cover them and it would be just fine.
But as I said, I needed to make something Dammit! and I had most of the material on hand-Cypress and Douglas Fir.
So I set up shop under the roof of what will be our outdoor kitchen and went to work in the Texas heat.
God it was great. Hot, sweaty, dusty and all.
As I worked more of "me" returned.  I realized this was "home" for me.  For sure the virtual world has it attractions. But real materials, outside air, physical labor-this is the world in which I thrive.
Realization
But as I worked I also realized that my aversion to social media is, shall we say, misguided.  Social media need not be a replacement for personal contact. It can be a tool to stay personal. It is our choice.
In the end the table was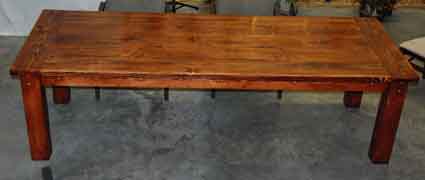 finished and it turned out quite nice if I do say so myself. But on the day of the party the rich wood grain, the carefully crafted joints and the painstakingly applied finish were covered with a table cloth and set with food and drink.
I think that it is important that everyday objects be beautiful. But it is their functionality that makes them valuable. So, as it turns out, I created my own social media platform, but it was the close interaction of our friends and family that gave it value.
As for me, I found a place. A spot between the solitary craftsman and the exposed and social.
Added Benefits
The light shining from my wife's eyes wasn't so bad either.
Happy Birthday Love