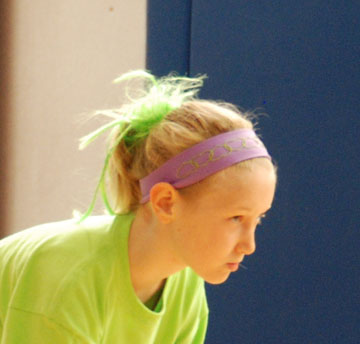 Today I am fifty-seven years and one day old.
The fifty-seven part is significant but the one day is the first of a new chapter in my life.
Yesterday, my birthday, was a good one. It started out by attending another first chapter.
Cast Of Characters
My intense, eight year old granddaughter was playing in her first volleyball game.
One of two women monitoring the foul lines was her mother, my oldest daughter and teacher of special reading classes at the local elementary school.
On the sidelines, her husband, father extraordinaire was simultaneously cheering her on and keeping an eye on their irrepressible 4 year-old. She was cavorting around the outside of the court barefoot in her flowered dress. She refuses to wear pants and has an aversion to shoes.
My youngest daughter, junior high math teacher and volleyball coach was on the court having volunteered to take on the daunting task of teaching the game to young, absolute beginners. Also on the sidelines was her husband, high school math teacher and basketball coach. He was sharing the attention of their beautiful 2-year old daughter with my former wife and the girl's mom.
This was a pretty good cast of supporting characters but today was our young player's story. I watched as she intently awaited each serve. When it came her time to serve, all her concentration was on the ball and the net. She scored a good run of points because these young athletes had not yet mastered the tricky skills of stopping the serve and getting it back over the net. The highlight came later in the game when a serve came right to her and with the perfect form that her aunt had drilled into her, she simultaneously stopped the ball and hit it back over the net. Ah, life is sweet.
Back story
Later that afternoon my wife, stepdaughter and I drove into Dallas for a quiet celebration. On the way my wife insisted we stop at the local mall to buy me a birthday present. My fashion conscious wife is doing her best to modernize my wardrobe with somewhat limited success. We then continued on with plans of dinner and a movie. I had chosen the animated movie "How to train your dragon". I have a lifelong fascination with dragons in particular and flight in general.
During dinner I recounted a story of making a parachute out of an old bed sheet. Luckily I was rescued in the nick of time by my mother moments before I was about leap out of the top a 40 foot tree. I also told of making large, cardboard wings that I strapped to my arms. In a true leap of faith, I jumped from the 8 foot retaining wall out over our concrete driveway. I knew that jumping up and flapping my arms would not work. It was perfectly clear to me that in order to reach the soft grass on the other side of the driveway I needed to launch myself in a horizontal position with wings spread and glide to the other side. The sheer number of cuts, scrapes and bruises that ensued from this ill-conceived launch is still legend in my family. It was the beginning of my realization that faith alone is not enough.
After watching the story of the skinny kid that tinkered with fire and anvil and rode dragons, my foreign born wife of nearly two years looked at me with new insights. It is hard to tell whether or not these new insights are to my advantage.
Beginnings
That however, was yesterday. Today is a new day and you are reading the first article of my new website and blog-Soulbuilders. This site has taken a lifetime and 4 months to make. It is still unfinished and there is much left to add and many tweaks. But there is enough in place that I can begin this new story in my life.
I agree that Soulbuilders is an ambitious name. It has a double meaning. When we create, when we make something, if we just follow the technique and do not add a little of ourselves it is simply a shell. Pretty maybe, and even possibly functional but empty nonetheless. Here we talk about making things with skill, attention to detail and soul. It is this personal difference that touches others where a simple collection of materials and techniques cannot.
The beauty of this is that as we work in this manner we build our soul. Look at someone who does what they do well and with mindfulness. There is something a little different about them that you cannot put your finger on. Maybe it is the way they walk or how they look at you when you are speaking. Maybe you can hear it in their voice. Whatever it is you can feel it.
In almost every case it is how they approached their "work" and not the work itself that transformed them (For a more complete example please read about James).
Where do we go from here?
So here at Soulbuilders we will talk about good technique and how it is absolutely essential to producing good work. But technique is not enough and we will talk about that in detail. I will share with you my story which is definitely a work in progress. I will tell of others and their stories and we will hear yours as well.
However, stories are not enough. Building a strong soul is a multifaceted endeavor. Holistic is a word that I see used a lot. I prefer Wholistic. Everything is connected. We cannot separate how we think from our health or Sunday religion from our everyday business. What we eat and drink affects our spiritual growth as does our connections with others. Physicists and Anthropologists have as much to say about the core of who we are as your church pastor.
Building a sword with fire and anvil takes the right materials, planning, skill, knowledge, the correct tools and lot of effort. Should we do any less to build ourselves?
Today, I am 57 years and one day old and you are reading the first chapter of a new story in my life. What story will you write today?
Thanks to Chris Brogan for pushing me to move forward with the challenge he issued yesterday.