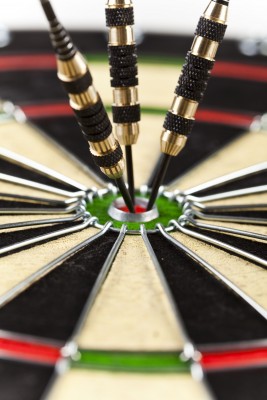 Thunk!
Dead center-Again!
Third one in a row.
Big Jim, the only real dart player in the room, raised an eyebrow at me. For him, that was fall-out-of-your-chair surprise.
I gave him a small smile and a slight nod. As if I knew myself what the hell was happening and had planned it all along.
You know-the old hustler trick of appearing to be the hapless pool player but when real money is on the line he runs the table and takes all your money?
Around me were Americans and Japanese in various stages of inebriation. No one else was paying the slightest attention.
Samuria Darts
It was spring 2004, downtown Nara.
As training manager for the United States, I had escorted 4 new employees to Japan for two weeks of intensive technical training. Big Jim being one of them. How we came to be in the middle of a darts tournament in a third floor British pub in the middle of the first imperial capital of Japan is a story in itself.
The short explanation is that it was the tail end of a dinner/party celebrating a successful two weeks of training. More would be a long and convoluted story.
I had started this series of tournaments a couple of hours earlier as I had expected. Most times at least hitting the board-but not always. Once the dart left my hand it was anybody's guess where it would land.
But now, in this game, I not only knew where it was going to land I was "telling" it where to land. The was an invisible but clearly tangible line between me and the center of the target. I was simply sliding those darts down that line. It was like the tone a fighter pilot gets when his targeting radar locks onto an enemy plane. For once in my life I relaxed into the experience and did not immediately go about analyzing it and losing it.
Maybe the two glasses of straight up Macallan scotch had contributed-maybe not.